We are one of the UK's leading providers of Property Inspection Reports. 
We can provide reports anywhere in the country either in person or now in an online report. Both are accepted by the UKBA and we have an enviable record in producing reports for people who obtain their visas.
Try out our free assessment tool , order our Priority Online Report for delivery within 10 days, or have us contact you to answer any questions you have.
It is a condition of UK immigration rules that any application made for residency be supported by proof that the Sponsor and Applicant  have adequate accommodation.
This requirement applies to a wide category of visas such as Spousal Visas, Fiance/Marriage Visas and family dependents (such as Children, Parents, Grandparents) Visas.
Property Inspection Reports are the stipulated way to satisfy the authorities that this aspect of the regulations is met. They must be carried out by individuals who are suitably qualified to do so and they must be independent.
As one of the leading providers of reports across Britain and Northern Ireland we here at Immigration Property Reports have the satisfaction of helping reunite families settling in the UK.
But why is a Property Report Required?
The report is required to demonstrates to the authorities that the Applicant(s) will have not need to be re-housed once in the UK and so will not be a burden on the Exchequer.
The Home Office/UKBA must be satisfied that the Sponsor can accommodate the Applicant(s) in housing that that will not become statutorily overcrowded under the provisions of Part X of the Housing Act 1985 and is safe and fit for human habitation under Part 1 of the Housing Act 2004.
The property report is, in most cases, a formality. However for those where some issues arise we can provide advice on what needs to be done in order to meet the criteria.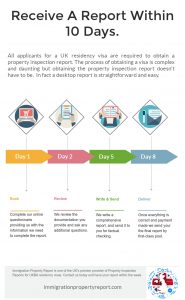 OBTAINING AN IMMIGRATION PROPERTY REPORT
Obtaining a Property Inspection Report for UKBA is required to receive a UK settlement visa. It sounds a daunting task but in reality it is simple, especially with our new Priority Online service which removes the need to arrange for an inspector to visit.
Whichever service you choose, you will receive a detailed and comprehensive report by qualified and experienced Environmental Health Officers. 
These are the two types of inspection report available. 
On-site Inspection
As the name suggests this inspection is carried out in-person by one of our agents at a mutually agreed time and date.
On the day of the visit a visual inspection of the outside of your property will be carried out and relevant notes will be made.
Once the external examination is complete, all internal living spaces will be measured and notes taken of the numbers of people who live in the premises.
Priority Online Report
A Priority Online Report is available across the country, even where a physical inspection is not possible due to location or time.
You complete an online questionnaire, including providing measurements of the rooms, photos and floor plans (if available). 
This is our recommended option for most cases since it is quick, convenient and guarantees a report anywhere in the country within 10 days.  
ARRANGE YOUR INSPECTION NOW
Immigration Property Report work with qualified professionals across the country. This means that wherever you are we can help you get your Property Report – and do so quickly and cost-effectively in a  respectful way.
Our Priority Online Report service can be completed without a physical visit and will guarantee a report within 10 days.
Alternatively, complete the form below. We will then contact you to ask you some questions, tell you the documentation we require at the assessment, and arrange an inspection at a time that is convenient to you.